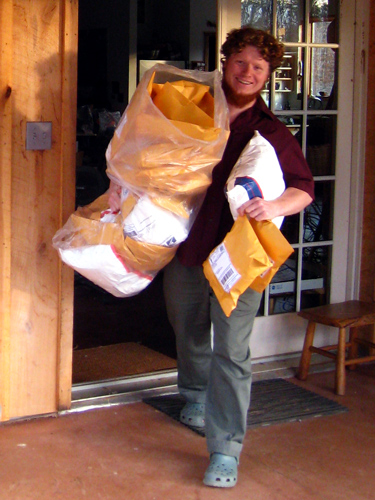 Ordering Info
When you click a "Add to Cart" button you will be taken to a separate page where my shopping cart is run by Paypal.com.
If you want to order a hat with custom colors or place an
international order
please use the
special order form
or drop me an e-mail at

Domestic US Shipping Fees
$4 flat fee for all orders under $29.99
$6.50 flat fee for all orders over $30.00
Orders are normally shipped via USPS

International Orders Shipping Info
Please contact me with the exact merchandise that you desire so that I can weight the package and give you an accurate postage price. For fairness I charge the actual price rounded up to the nearest whole dollar plus $3 to cover the trip to the post office to fill out the customs forms and the higher credit card processing fees. If I can't give an exact postage quote such as custom sewing projects then I will charge a highest price that I think it could be and then refund the difference to your card once I ship the package and thus know the cost. It is a bit unusual but it is the fairest way for both of us. Please use the special order form or drop me an e-mail at


No information given on my website, via e-mail correspondence or over the phone will be shared with any other company or government unless required by law.
That Fine Print
I try to treat every customer like I would like to be treated and ask that you do the same. Please contact me before shipping any items back. Defective workmanship will be repaired or replaced and shipped back to you free of charge. If an item does not suit you and is still in brand new condition then you can return it to the address at the bottom of this page and you will receive a full refund minus the shipping fee. Returns can also be made as exchanges for another product but the customer will be responsible for difference in product costs, return shipping costs and any custom sewing fees. Unfortunately I can't accept returns for custom sewing orders or used merchandise.
If you have any questions please contact me. Thanks, Ryan
Ryan Williamson
4646 Buddys Place Ln
Earlysville, VA 22936
434-973-6032