A handmade recycled fleece balaclava with ears on top! This year many kids have been calling it the Max hat referring to the book "Where the Wild Things Are". Just add your own gold crown and a few monsters and you have Max.
The polar fleece hood will keep kids and adults warm in cold winter weather. The stretchy material allows the face opening to be pulled down under the chin while eating. If it gets warmer just fold up the bottom to make the balaclava into a warm hat or push it back to make a neck warmer. Children and adults alike will enjoy the fun attitude of the ears while staying warm.



Fits most folks ages 5 to 99+




Color Combination: A.

Ears: Red
Sides: Black
Front and back: Black
Thin 100 weight fleece


Color Combination: B.

Ears: Forest Green
Sides: Navy
Front and back: Grey
200 weight fleece

Color Combination: C.

Ears: Blue
Sides: Gray
Front and back: Gray
Thin 100 weight fleece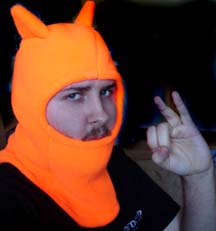 Even guys in England have some fun with Mouse Works hats.


About the fleece

Most of my fleece is made by Malden Mills here in the USA. It is the best fleece available that does not pill or degrade like cheaper imported fabrics. You can learn more by visiting Polartec®

Technical Highlights
Provides warmth without the weight and bulk of traditional insulating fabrics
Highly breathable to provide comfort in all activities; does not restrict the movement of moisture vapor
Dries quickly to minimize heat loss
Durable; will outlast other imported fleece fabrics. It does not pill up like the cheep imitations. Plus it is made in the USA!
Machine washable. Please turn hats with eyes inside out to protect them.
Versatile; appropriate for a broad range of activities
Much of the fleece is made from recycled soda pop bottles!

I work with different thicknesses which provide different levels of insulation for outdoor activities.

100 weight fabrics are the lightest and are excellent for a warm first layer, for heavy aerobic activity such as running or for warmer climates.

200 weight is about twice as thick as 100wt. It is the normal weight that jackets are made of. It provides outstanding warmth and versatility.
300 weight is the thickest. It provides the most warmth. It normally is too thick for most hats
Berber is a special fleece that is nubbly on the outside with a smooth face for the inside. Many folks enjoy the texture of this fabric. It is not as wind resistant as regular fleece.